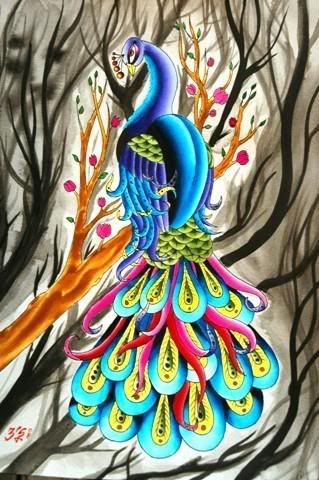 I wanna see your peacock-cock-cock, your peacock-cock-cock
OMG! Katy Perry's stupid "Peacock" song is stuck in my head the whole morning -.- Thanks to Jackie, Johyee and Jiun x) The song's damn annoying weyh! And....dirty too HAHAHA damn stupid laa the song omg. Btw, I didn't find tht peacock picture on purpose..I saw tht picture and I just put it in hhahah
I went to school today :D Got bck our BM paper 1 and Science. Gotta say bye bye to A for BM :/ I dnt even think i could get an A for English. Baaahhhhh -.- I seriously dnt wanna get any C anymore :(
Ohh btw, the school organised a farewell for Pn Rozita today. Goodbye Pn. R! :)
Our beloved constipated-look head prefect is the most annoying person I've ever met :) She's SO EFFING ANNOYING like omg. We're not suppose to open any books during assembly but last week during assembly, we were all studying cause TRIALS LA WEYH -.- And they were doing some stupid Agama quiz so we were reading our own books la. Then here comes the stupid constipated-look girl.....
Constipated girl : Please close your book.
Me : It's not like the quiz is useful to us right?
And then i think on the other day,
Constipated girl : Please close your book! This is the LAST WARNING *with her constipated look*
Then I was asking Jackie "Last warning? I don't remember getting any first warning." And we were laughing at her stupid constipated look x) I swear if she says tht again, I'm gonna ask her "When's the first warning?" with a smile on my face HAHAHAHAH Omg I so wanna do that!!!
That day, I was on my bed watching tv then suddenly they showed Justin Bieber's advertisment and I was so damn surprised :D It was about his album. Heeeee so cute :D