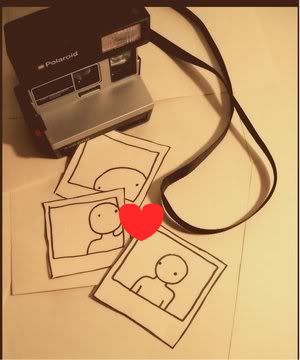 My sis sent her lens to repair and i saw this really retro cam at the shop. I think maybe it's a Lomo cam. Damn cool weyh. & polaroids are cool too! How i wish i own one :(
Today, I almost died of laughin again. All thnks to Joh Yee laaa x) Shoba bought us some keychains frm Vietnam which look like this :
At first, Johyee told me she pulled off the doll's hair..and a few mins ltr, she broke the key chain's screw. I was like o.O Then in the class, it was even worse. She pulled out the doll's head HAHAHAHHAHAH. Damn evil weyh. We were all laughin like mad! When we were laughin laughin laughin, Johyee accidentally pushed another doll and it fell to the floor. And guess what?
The another doll's head broke again weyh. HAHAHAHAHHAHAHAHAH So effing funny. I laughed until i got headache wtf right xD
Jackie took Vero's keychain and she was acting like she's biting it...then she memang ter-bite it and the head broke HAHAHAHAHAHAHAHHAHAHA Ehhhhh wtf lor x)
Vero : Jackie, it's not my fault !!! The head and body is gonna haunt you. Not me. I dont know anything !
HAHAHHAHAHAH Omg laaa x) Okay. I gotta go continue my KKS now. Bye people ;)